Freedom Cells Anti-Spam Federation on Telegram
How to protect your Telegram group from spammers collaborate with a larger federation!
If you've been using Telegram for any length of time, you may have noticed the spam bots.
They come to our groups spouting the most cliche & obvious spam such as:
Emotional experiences with successful crypto investments (does this ever work on people?)
Telegram channels of dead celebrities (Michael Jackson came back from the dead?!)
Fake crypto projects (Trump Coin 2021)
Agressive & militarized patriot groups (I wonder why they would use bots...)
Its time to put an end to this and get back to our conversations. Today, we have tested out a private, open-source Telegram bot & banlist federation solution that can serve our greater community.
This project is called Sophie Bot, and you can learn more about it here:
Its been chosen due to its committment to privacy (they do not collect the content of messages unlike other bots), and because it is open-source and self-hostable.
If you have a Telegram group this article will show you how to add Sophie Bot, set up a welcome captcha for your group, and how to join a federation.
Setting Up Sophie Bot
As a Telegram group owner you can do the following to get Sophie Bot set up in your group.
Add the bot (@rSophieBot) as a new administrator. As a precaution, only give it permission to delete messages and ban users.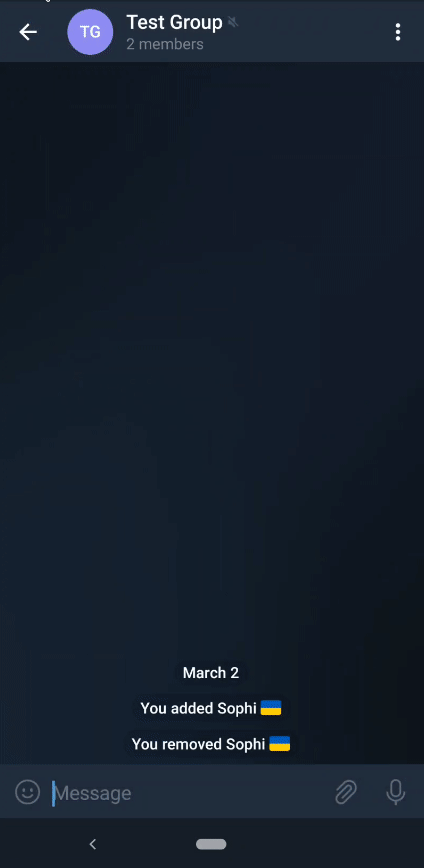 2. Start Sophiebot and set a welcome captcha. This step is important to get SophieBot active, and also to set a welcome captcha to new members of your group. New members must pass the captcha to join your group and will be banned if they do not.  
Type in the following commands in your chat group (you must be an admin):
/start (starts Sophie Bot)
/welcomesecurity captcha (Sets up a captcha for new joiners. Instead of putting in 'captcha' you can also type 'button' or 'math')
Banning Users
You can ban a user in your group using Sophi by doing the following. Keep in mind that this is not a federation ban, this is only a ban for your group. You should ban users according to whatever rules or guidelines you have set out in your own group.
/ban @username (Use the @ and begin typing in the username to autocomplete names of those in the group)
Note that you can reply to user's messages with /ban to ban them.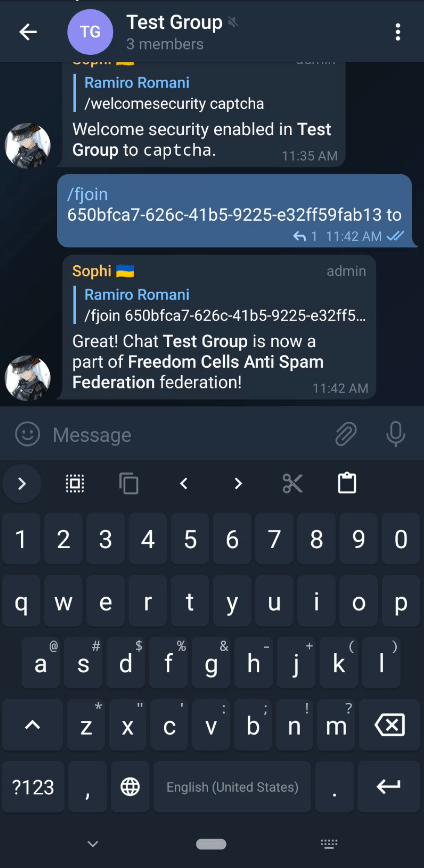 Joining The Federation
You can join the Freedom Cells Anti Spam Federation to automatically block any users the federation has identified as spam. We are aware at how this system could potentialy be abused, so be aware joining the federation is completely optional - you can leave at anytime or create your own federation.
Join the federation by typing the following command:
/fjoin 650bfca7-626c-41b5-9225-e32ff59fab13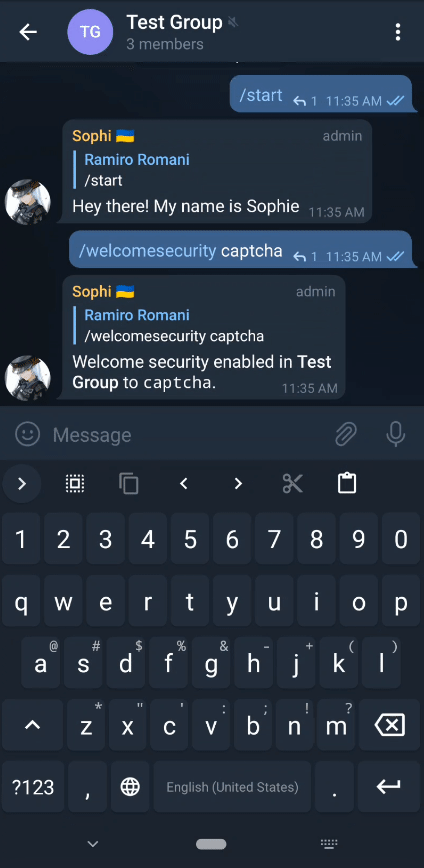 Leaving The Federation or Creating Your Own
You can leave your federation at anytime using the following command:
You can also create your own with the following command:
Using SophieBot
This article is only scratching the surface on what you can do with Sophie Bot. If you're interested in setting welcome messages, creating notes, creating spam trigger words, and much much more - check Sophi Bot's official documentation.
Take Back Our Tech Newsletter
Join the newsletter to receive the latest updates in your inbox.
---