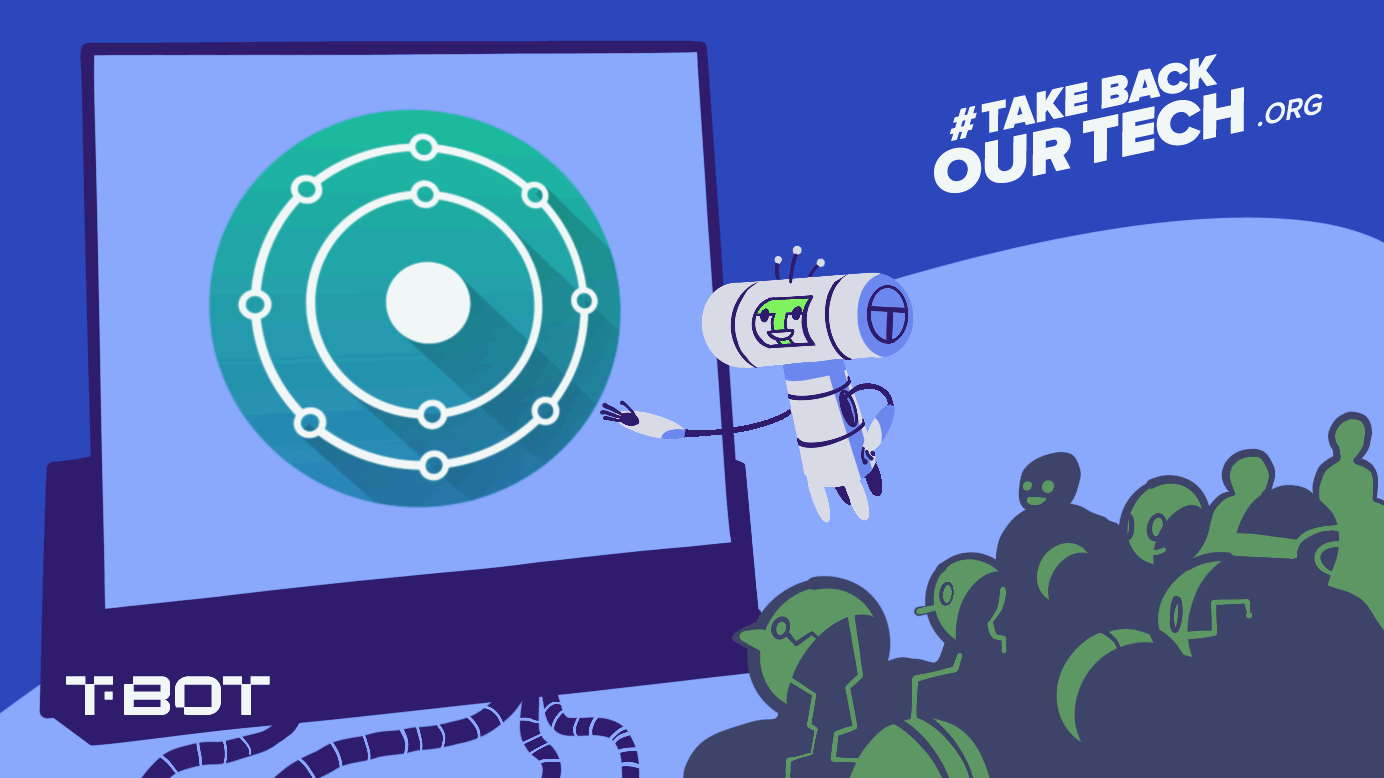 Without a doubt, KDE Neon featuring KDE Plasma is the most feature rich desktop environment available to users in the current generation of distributions. KDE Neon gives you KDE Plasma's latest features. Dive into this gorgeous distribution on this feature tour.
Introduction
KDE Neon was announced in 2016 by Johnathan Riddell, after he resigned as the release manager of Kubuntu. KDE Neon is known to offer the latest release of the KDE Plasma, a cutting edge graphical environment for Linux systems. We will explore some of the features of KDE Plasma, and KDE Applications in the User Edition of KDE Neon, which is based on the stable release of Ubuntu 20.04.2
Highlights
The most extensive desktop environment customization you can achieve without making code changes. Improvements across the board to the look and feel of Plasma, the new Adaptive Transparency feature makes for a gorgeous desktop. A refocused system settings makes the vast amount of settings in KDE easy to organize and maintain.  
Improvements to the different sofware packages that make KDE stand out from the rest, System Tray, Resource Manager, Command-Line Launcher, and Notifications. This leads to a fully integrated desktop experience.
Beginners FAQ
How to launch the app store?
Search for and Launch 'Discover', icon is a blue shopping bag.
How to install applications?
Click on apps in Discover and click Install, or follow the installing programs guide.
How to change default applications?
Press (super/meta/windows) key and search for the Default Applications App. You can change the Web, File manager, Email, and Terminal Programs.
How to pin applications to the panel?
Launch an application so you see its icon in the dock, then right click on its icon and under Actions > Pin To Task Manager, then select which Activities you would like to see it pinned on.
How to make shortcuts to folders?
Within Dolphin (the file manager), drag over a folder to the left hand locations shortcuts.  
How to update your software?
Launch Discover and click Updates in the bottom left hand corner. Click Update All to update everthing. Click Update next to a section update that app only.
Privacy & Security
KDE Application Telemetry is off by default, users must opt-in. You can verify this in System Settings > Personalization > User Feedback, make sure the slider is set to 'Disabled'.
KDE offers full disk encryption, preventing unauthorized access to the operating system upon boot, this is enabled and a password is set during the installation process.
Features
Improved Settings
System Settings are have been redesigned to organize the huge array of KDE settings. Appearance can be customized in its own section, where so much of the magic of KDE happens.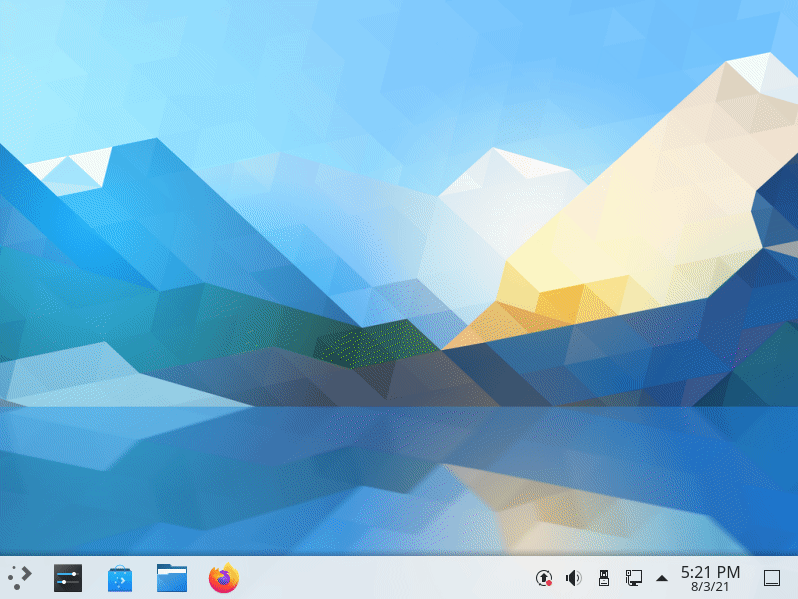 Themes
Apperance > Global Theme: Choosing a global theme can update all of the application, plasma, colors, window decorations, fonts, icons, cursors, fonts, and splash screens. You can Get New Global Themes using the button below at the bottom of the page.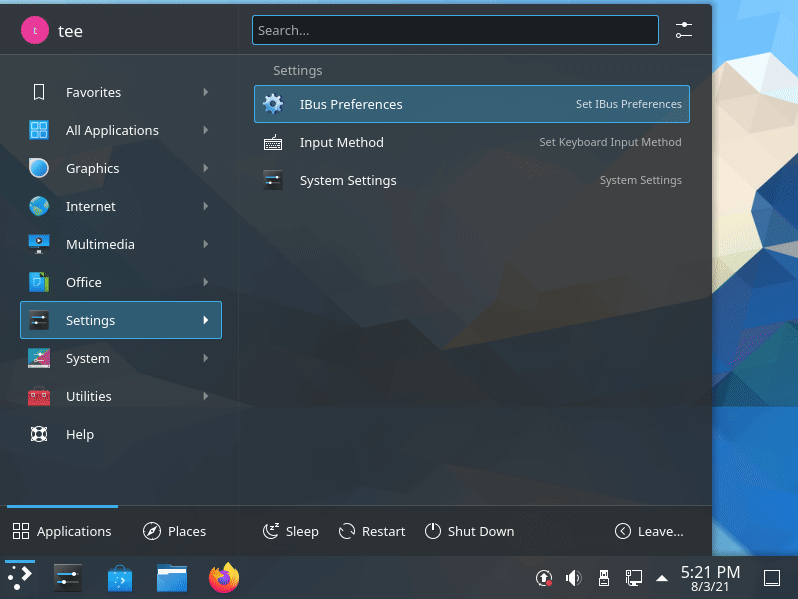 You can download additional themes by hitting the 'Get New Themes' button on the bottom right. These are developed by third party developers and offered through the KDE Store.
Virtual Desktops
KDE has a full featured virtual desktops functionality, that includes organizing desktops in rows & columns, different desktop switching animations, and a virtual desktop widget.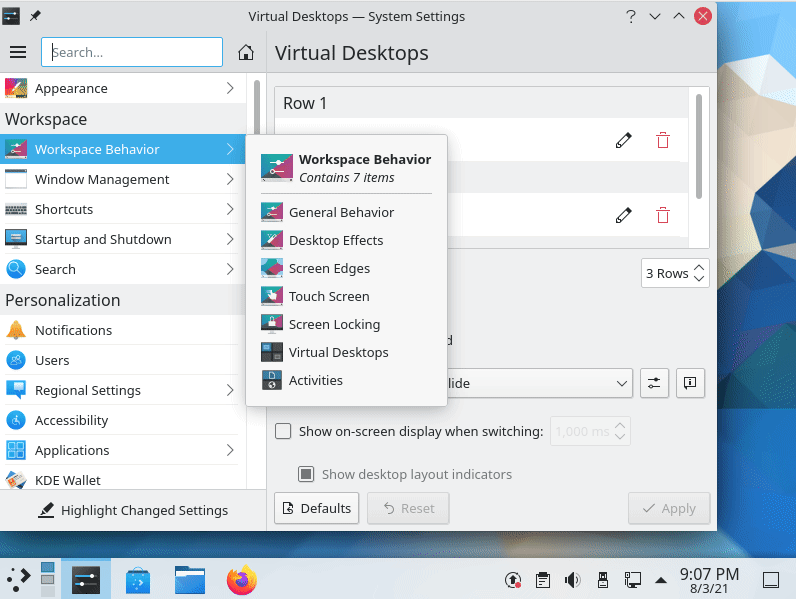 Activities
KDE also has an activities feature that allows you to save different different configurations of the desktop environment (KDE Panels, Widgets, Desktop Wallpapers) so that they can be switched back and forth easily. This allows you to have a 'Development' activity with all of your favorite programs, and then shift to another activity when you're not working.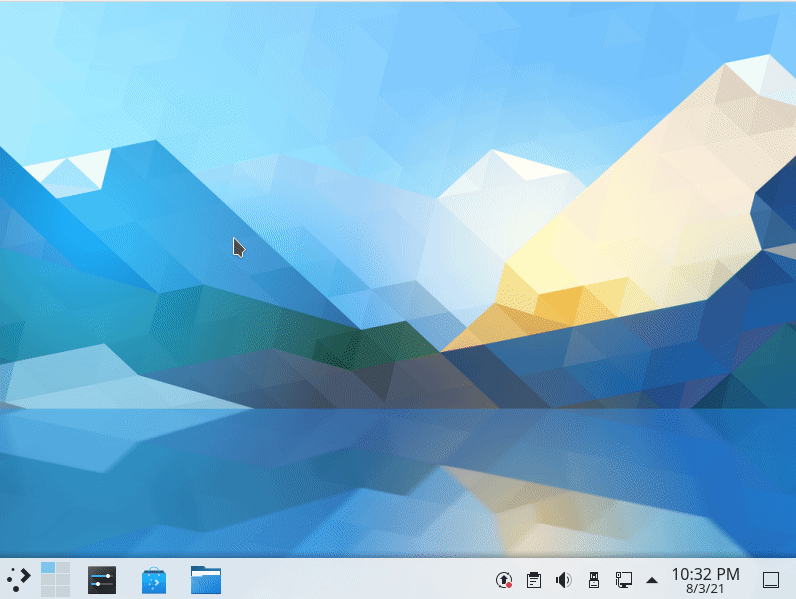 Useful Settings
You can drill down into each of these settings from the System Settings App, click on the setting on the left hand pane.
Workspace Behavior
Desktop Effects: Add effects & utility functionality to your desktop
Screen Edges: Trigger actions by pushing your mouse into the corners, you can use this to show activities, windows, or change dekstops.
Screen Locking: Change screen lock appearance, times & shortcuts
Window Management
Window Behavior: Change focus settings, titlebar & window actions, movement,snapping, and more.
Task Switcher: Switch between windows, show all windows, animations.
Shortcuts
Shortcuts: Set shortcuts to launch applications
Custom Shortcuts: Set shortcuts to run commands
Startup and Shutdown
Autostart: Set applications to run at startup
Background Services: Check status of background services
Search
File Search: Pick specific folders to index (if not your entire home folder)
Notifications
Notifications: Customization, do not disturb mode settings, positioning
Users
Accessibility
Accessibility: On screen keyboard, screen reader, mouse navigation
Applications
Applications: File associations (which program is used to open what type of file)
Locations: Set paths to common locations (Documents, Downlaods)
Default Applications: Pick default applications
User Feedback
Enable telemetry (off by default)
Firewall
Control your computer's firewall (most users will be fine with allow all outgoing, ignore incoming)
Software Updates
Choose to update software manually and 'offline'
Apps
In addition to the Plasma desktop environment, KDE has released the KDE Application Bundle which are developed by the KDE community. These are released for all Linux based operating systems and beyond.
KDE Neon has a minimal approach and hasn't packaged many applications along with it, but installing other apps is just a click away using discover.
Discover
Discover is the built in software store and application manager for KDE Plasma. You can browse a list of the core packages available in Ubuntu & KDE Repositories. KDE Neon comes pre-installed with Flatpak, and Discover is pre-configured to use Flathub as a repository source. Opening you up to even more programs.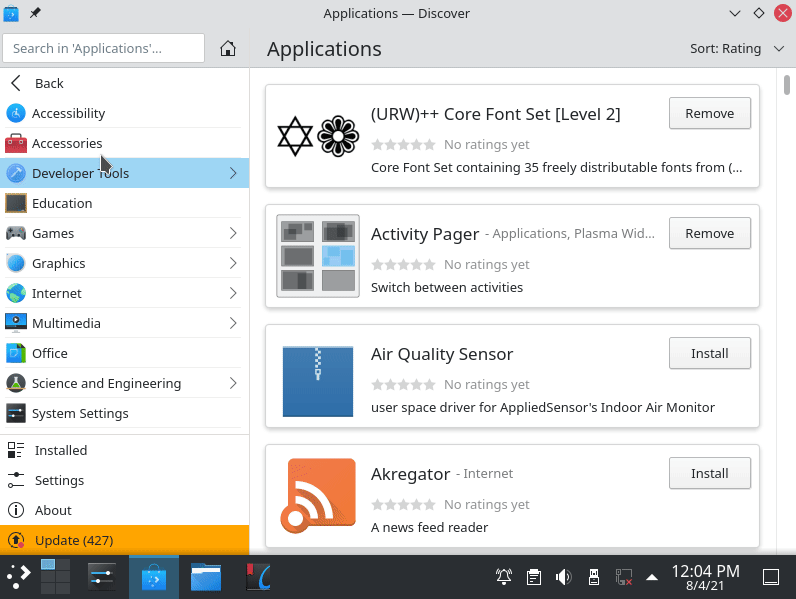 KDE Connect
KDE Connect is a pair of applications for both mobile and desktop that integrate your phone with your computer. Its available for Android based systems, and allows you to get phone notifications on your desktop, reply to text messages, and much more.
Here are my most used features:
Shared clipboard between computer and phone
Notifications sync
Controlling desktop music player from the phone
Unfortunately, haven't been able to get KDE Connect working on KDE Neon, but it has been working fine in the other distributions we've recommended. Hopefully these bugs will be patched soon.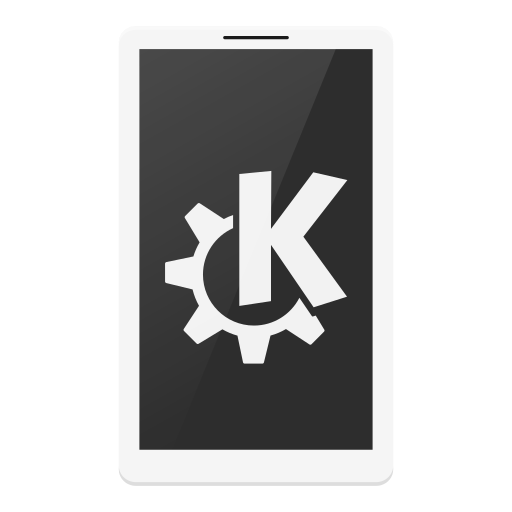 Take Back Our Tech Newsletter
Join the newsletter to receive the latest updates in your inbox.
---