Pop!_OS 21.04 Feature Tour
We love Pop!_OS for its simplicity and stability, things work out of the box with support for many applications, graphics, and gaming. This lets you get to whatever you want to do without having to deal with much configuration.
Introduction
Released only in 2017, Pop!_OS is a Linux distribution based on Ubuntu. It is developed by computer retailer System76. Its simplified and minimal style allows you to stay focused without getting distracted. Out of the box support for graphics, gaming platforms, and applications lets you get to whatever you want to do, quickly!
Highlights
Flatpak support and an extensive application store (Pop Shop) allow you to install apps you want in seconds, and you get to choose the source.
Cohesive desktop experience with workspaces allow you to organize different programs on different desktops, and auto-tiling keeps your workflow organized as you run new apps.
Beginners FAQ
Note that you can watch the video walkthrough as well!  
How to launch the app store?
Click the Rocket Icon (Pop Shop) on the dock
How to install applications?
Click on apps in Pop Shop, or follow the installing programs guide.
How to change default applications?
Press (super/meta/windows) key and search for the Default Applications App. You can change the Web, Mail, Calendar, Music, Video, and Photos programs.
How to pin applications to the panel?
Launch an application so you see its icon in the dock, then right click on its icon and click 'Add To Favorites', it should appear in the dock.
How to make shortcuts to folders?
Within the File Manager, you can drag folders over to the left hand locations pane, and drop where it says New Bookmark
How to update your software?
Launch Pop Shop and click the Installed Tab on the top bar to see your updates. Click Update All to update everthing. Click Update next to a section update that app only.
Privacy & Security
Pop!_OS disables the opt-in telemetry included with Ubuntu, no system information is sent to third parties.
Pop!_OS also allows for full disk encryption, which encrypts the entire system, to protect your data should your computer fall into the wrong hands. This gets setup on your installation.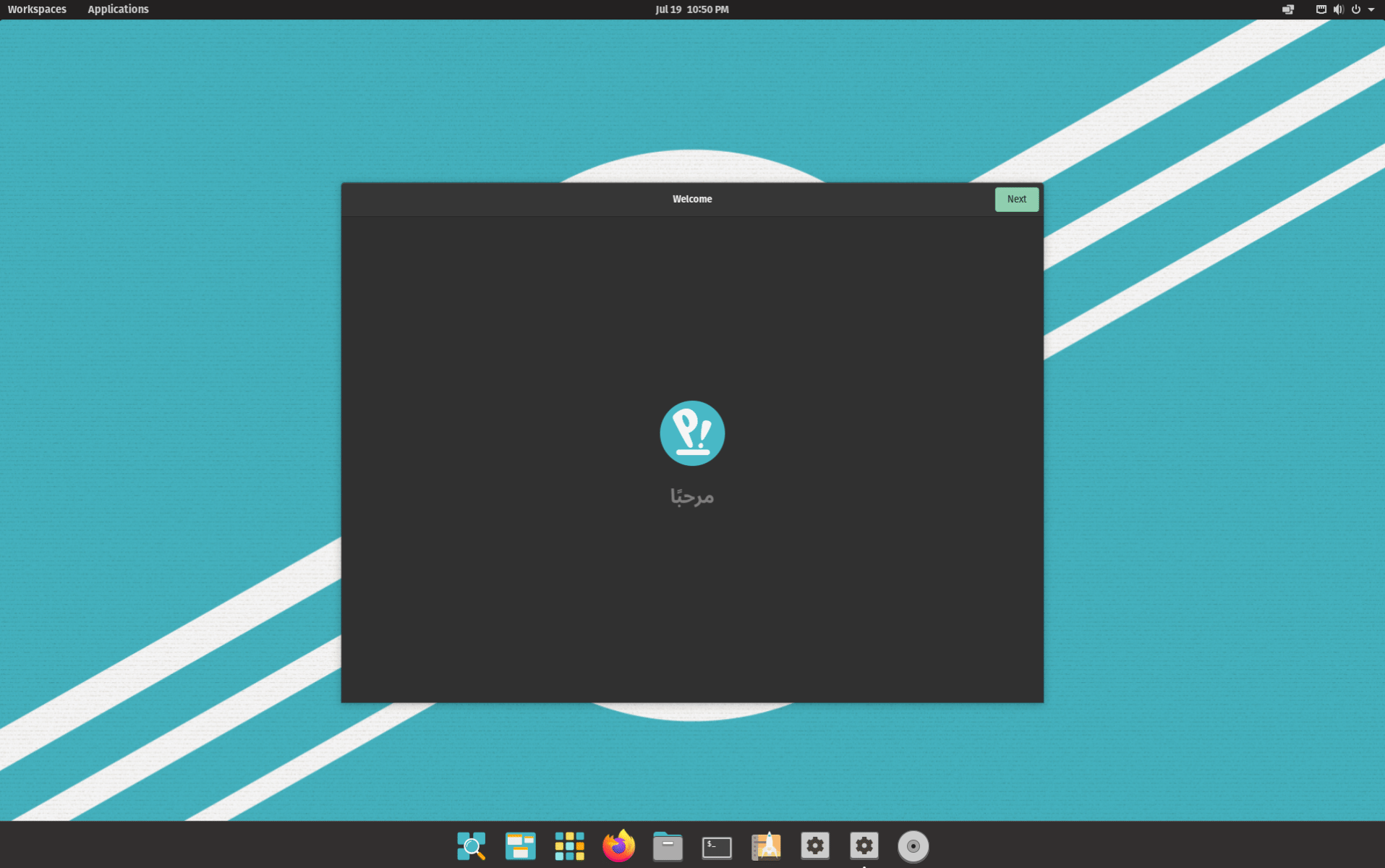 Features
Workspaces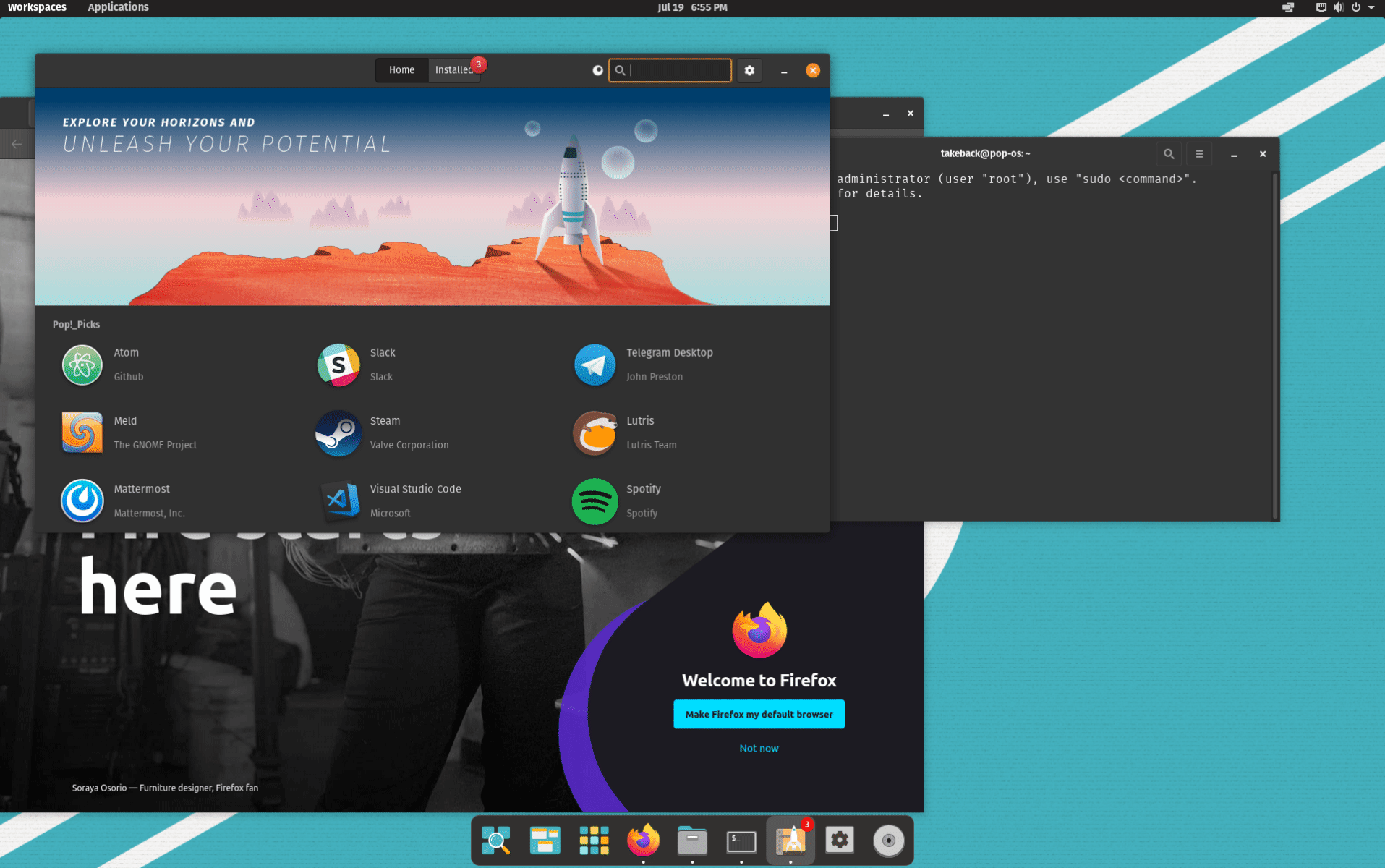 One thing Pop!_OS does really well is give you simple abilities to organize windows. You are always able to see all the open windows at a glance by clicking Workspaces in the top right corner. From here you're able to see all available workspaces (these are essentially other deskops you can switch quickly to), and you can drag windows onto different desktops.
This workflow combined with keyboard shortcuts to move quickly across desktops (usually meta / windows + arrow keys) makes for productive computing.
Pop Shop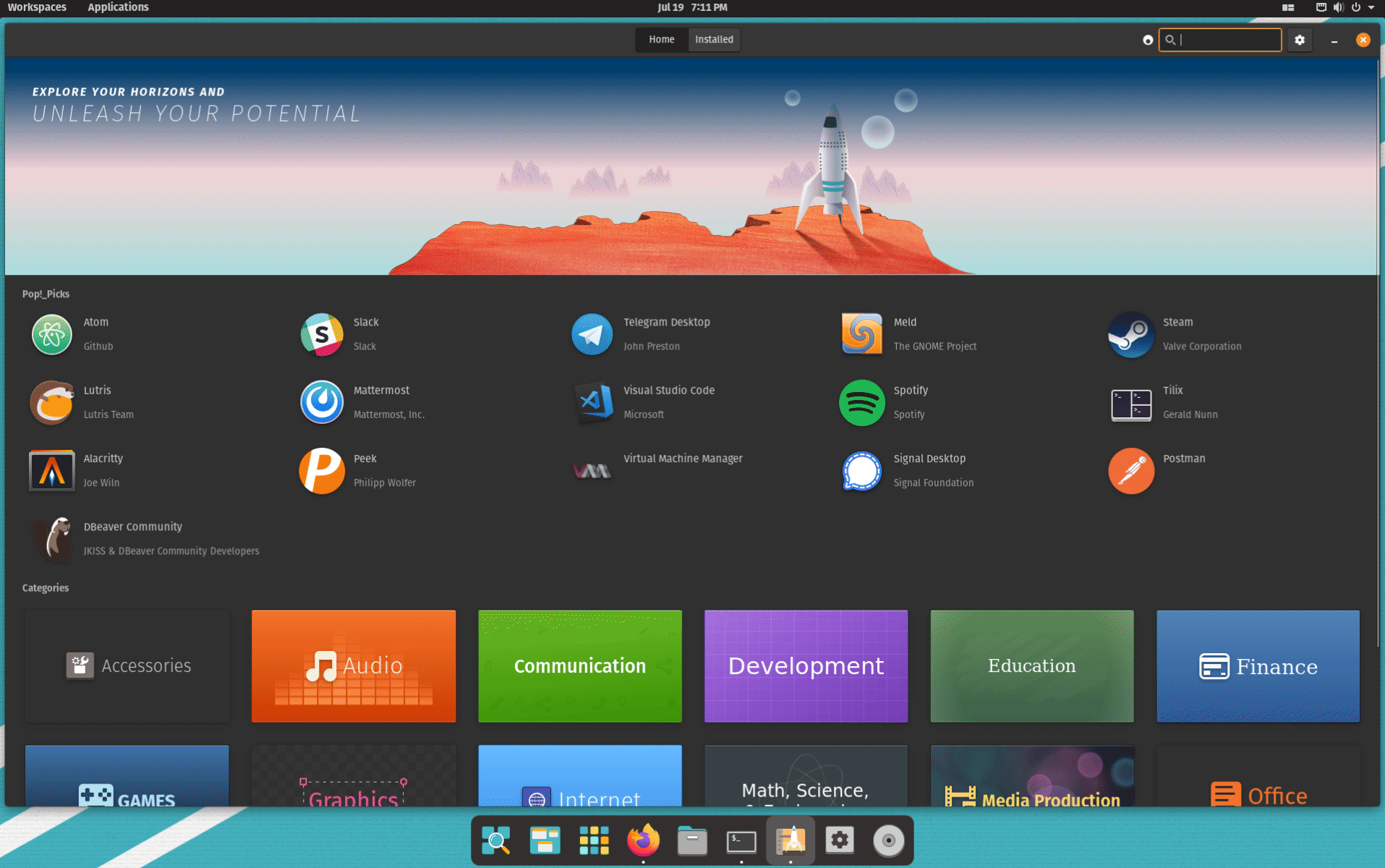 Another thing Pop!_OS has absolutely nailed is their app store. They have pre-installed Flatpak, a modern application distribution platform that allows apps to be compatible across many Linux desktop distributions, and they have also enabled the Flathub repository which has an endless array of open source applications.  
In the clip above you see how easy it is to get to an application and toggle the source between native installation (.deb) and Flatpaks.
This makes it easy to get your favorite applications installed, the way you want them, in the blink of an eye.
Window Tiling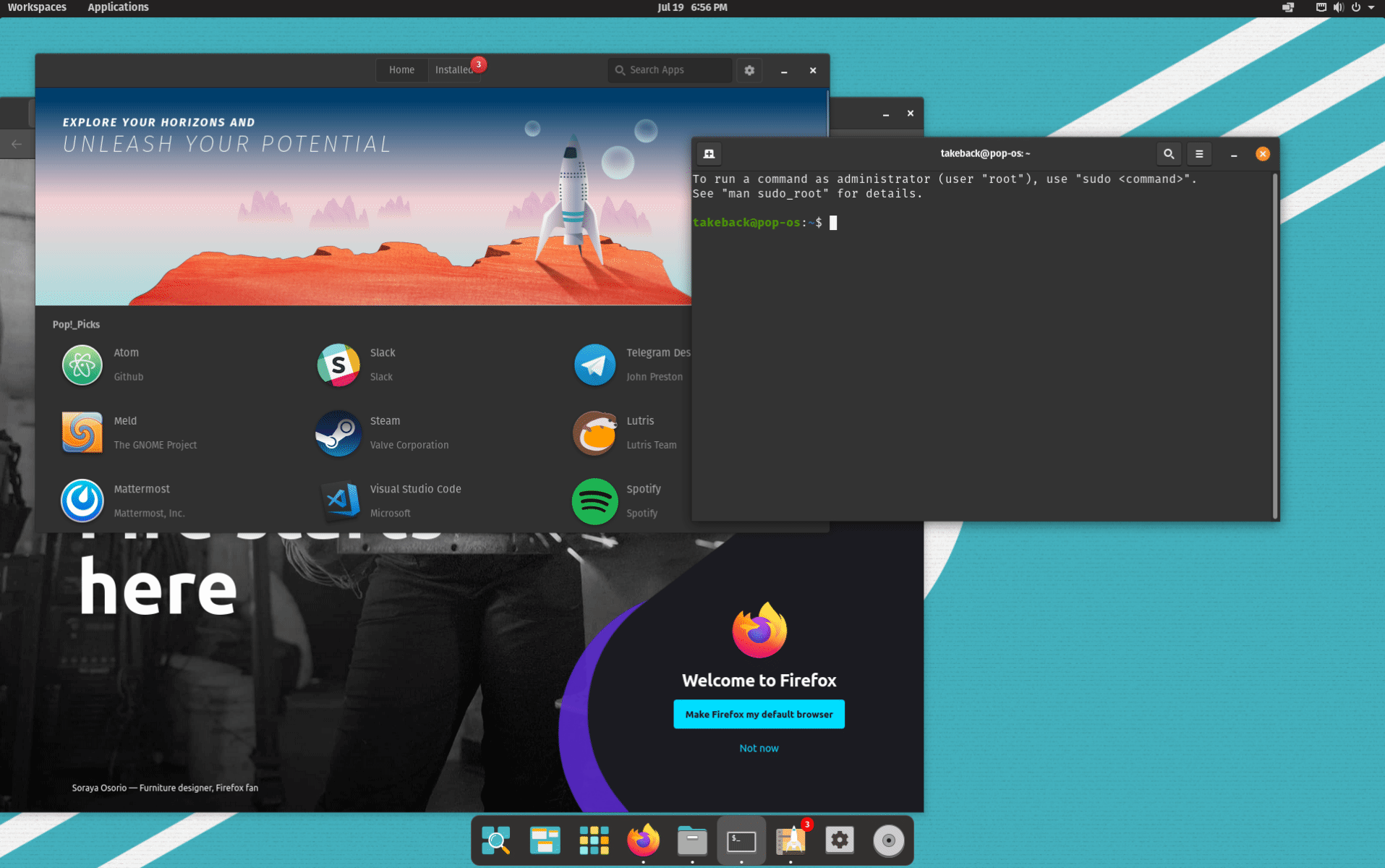 Automatic window tiling is a feature I wish more desktop environments had, although I am okay with tiling mine manually using shortcuts. Opening a brand new window and having it be tiled, no matter the current setup makes it easy to work.

Once tiling is on, you can rearrange windows by dragging and dropping them into the areas of the screen you'd like.
There are still some kinks with certain programs, but its still a feature worth checking out.
Common Programs
Pop!_OS doesn't come with many programs that bloat its size, but it does come with:
LibreOffice: A free and open-source document editing suite, compatible with Microsoft Office formats.
Firefox
Geary: An email manager
Pop Shop: The software store!
Important Settings
You can launch settings at any time by pressing the meta key and launching the Settings app.
Desktop
General
Super Key Action: Customize what the meta key does, we like the keeping this as the launcher.
Window Controls: Enable the minimize and maximize button on each Window.
Appearance
Dock
Show Mounted Drives: Useful for quick access to USBs / other drives.
Dock visibility: Can customize when the dock appears, it can hide intelligently based on whether windows are around, and you can choose which display it resides on.
Dock Position: Which screen edge is the dock on
Workspaces
Fixed Workspace,s Number of Workspaces: You can up the number of workspaces by default to have them always available.
Multi-monitor behavior: Whether the workspace should be one your primary montior or both
Keyboard
Customize Shortcuts
Setup shortcuts for tiling and workspace switching
Default Applications
Setup the default applications that are used when opening different files / links.
Customizations
Since Pop!_OS uses GNOME desktop, it can be extended with GNOME extensions, which are modules written by third party develoeprs that can extend the way the desktop works.
You can easily get access to and install Gnome extensions from your web browser by installing GNOME Shell Integration on your browser of choice.
Firefox
Chrome
After doing this, you can install extensions directly from the Gnome Shell Extensions website.
Here are some hand picked extensions that have improved our use of the desktop environment.
Window Tiling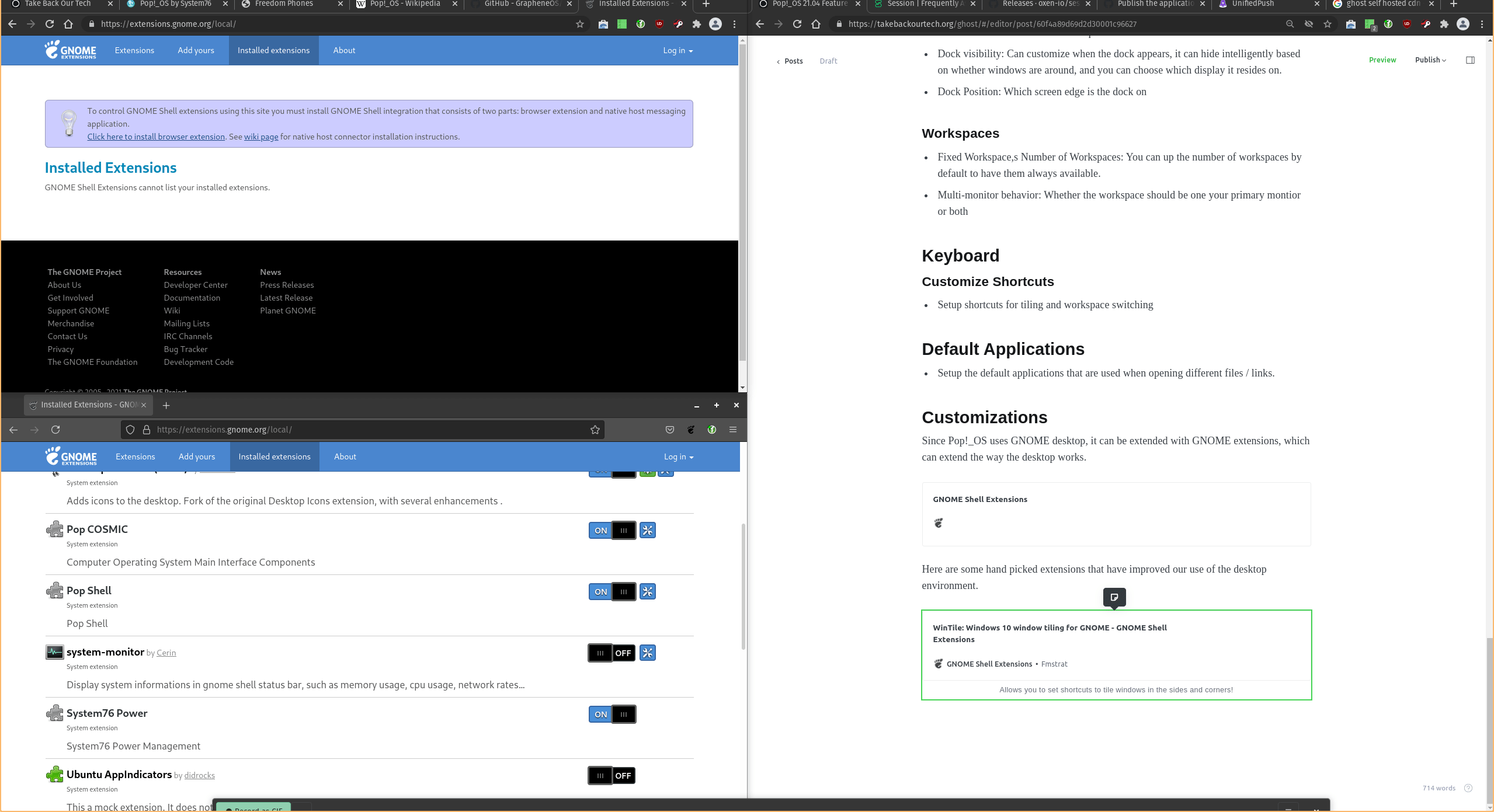 Workspace Matrix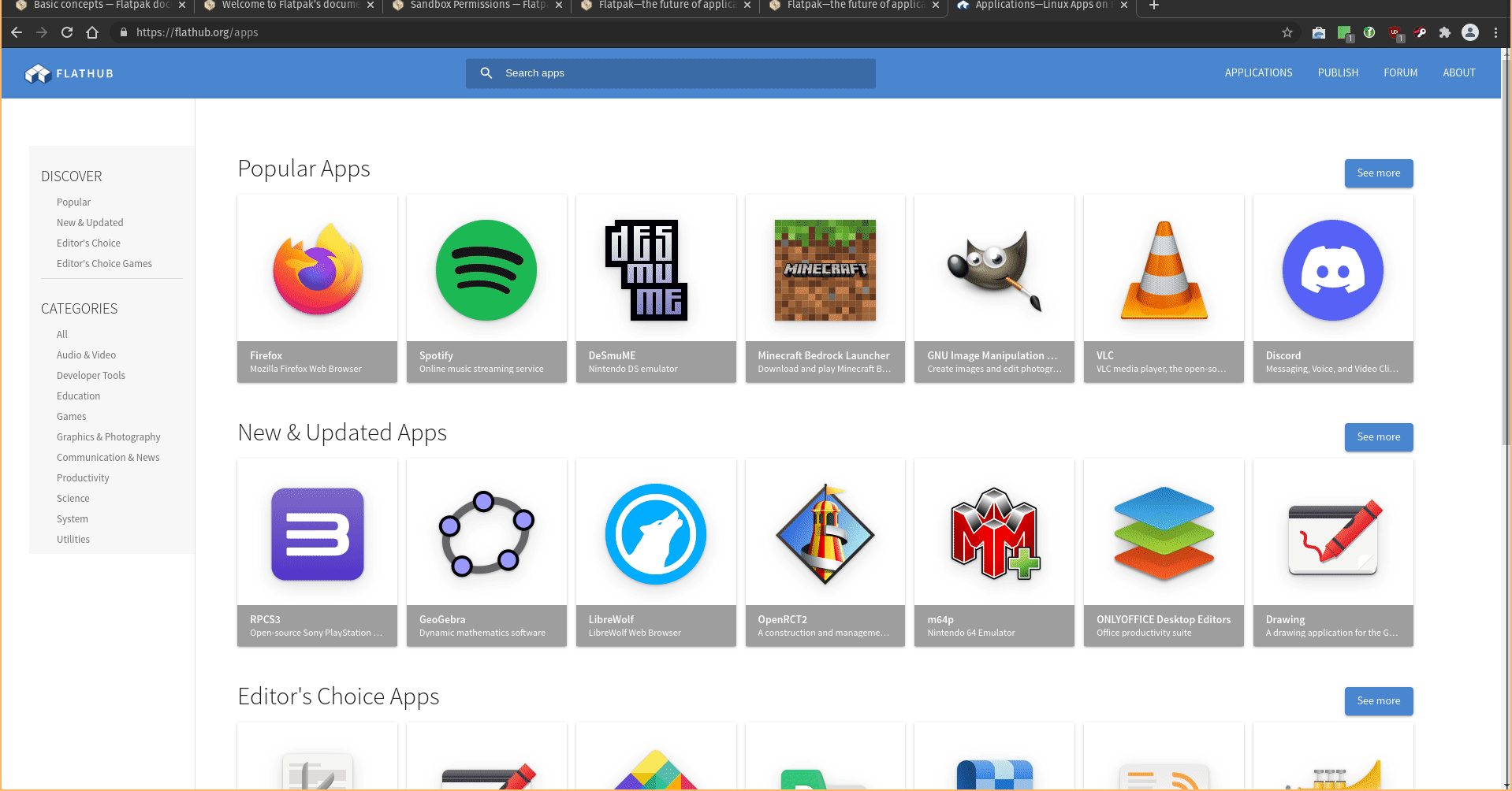 Arrange Windows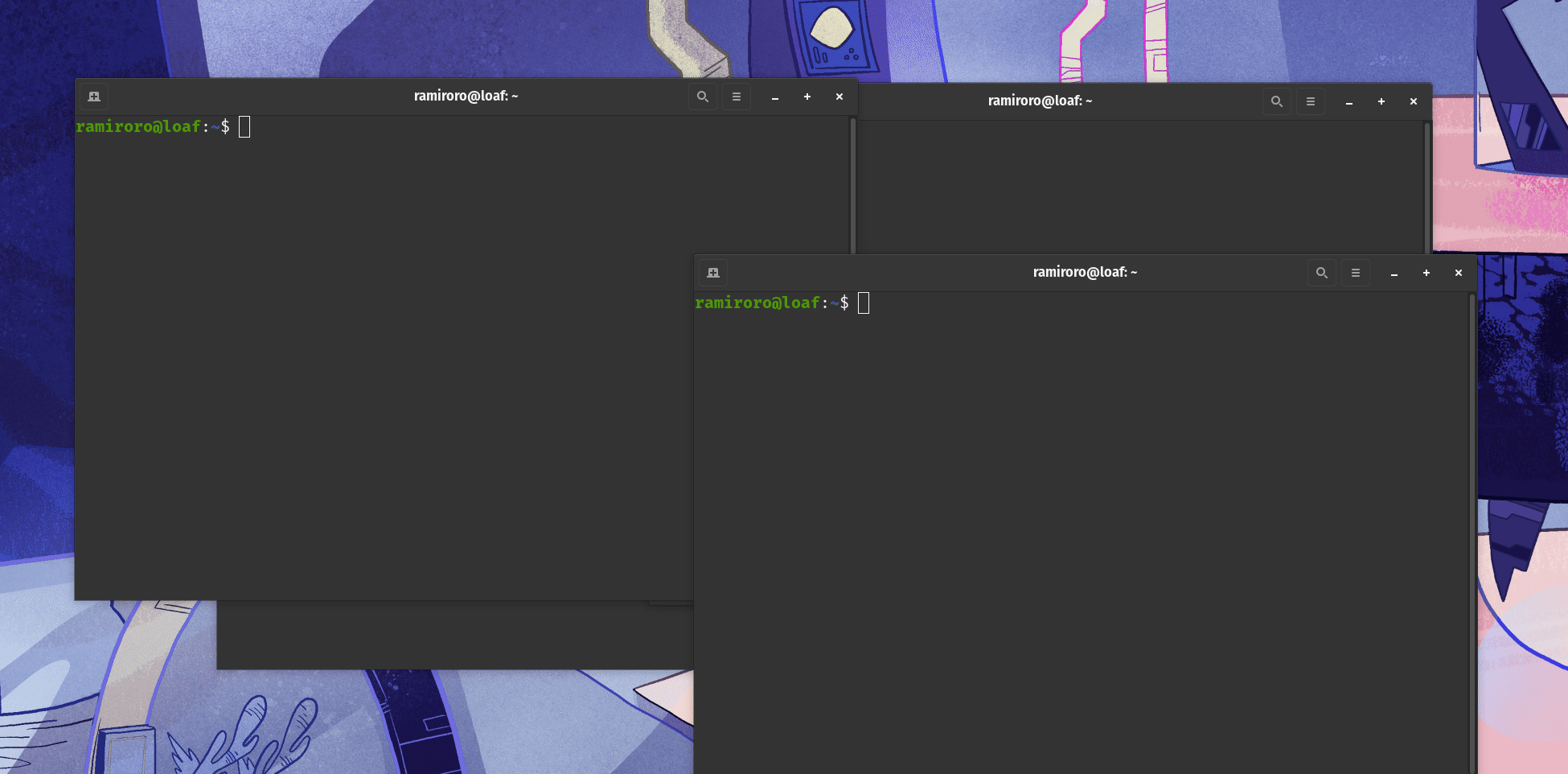 Conclusion
How far can you take your installation of Pop!_OS? Share with us on our channels.

Teebot wants you to follow us on these alternative social platforms:
Official #TakeBackOurTech Community
Telegram Channel
Telegram Discussion
Odysee
Hive
Minds
Take Back Our Tech Newsletter
Join the newsletter to receive the latest updates in your inbox.
---